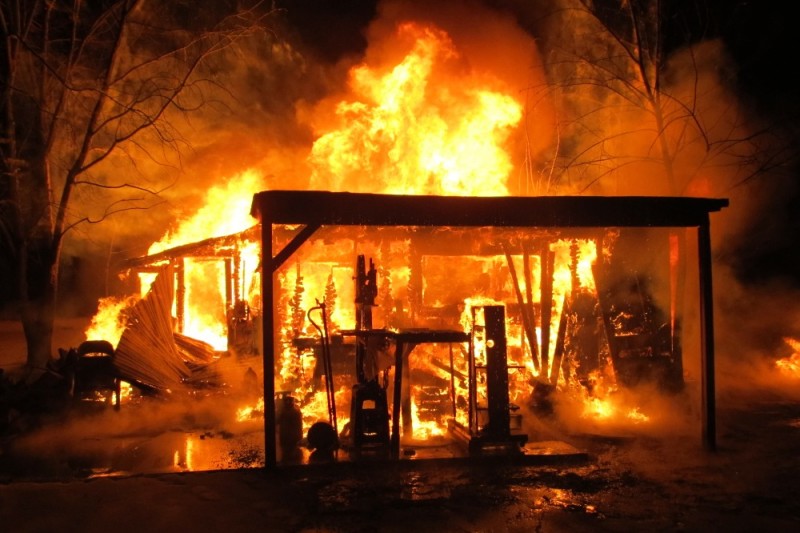 Pretty dramatic photo, isn't it?  I wonder if harp guitars go up faster than 6-strings?
This is harp guitar builder Steve Wishnevsky's shop which burned to the ground 3 days ago.  I was alerted to the tragedy by Wishnevsky fan John Riley.  There's a fundraiser already going to get Steve back up and running.
By now most shoppers for entry-level harp guitars know the Wishnevsky name as Steve's been quietly getting more harp guitars into players' hands than probably any other individual luthier out there.  Steve's sole goal – besides obvious creativity – is to "make affordable string instruments for the working musician."
In spite of (or perhaps because of) what I refer to as their "folk art" aesthetic, they are being played by musicians at all levels.
John (above) owns Gibson and Dyer harp guitars (along with a rare Coulter) and two Wishnevskys.  At right is his latest one – a double arm version that John is adding super-trebles to (as Steve is doing also):
And recent winner of Andy McKee's Acoustic Guitar Prodigy contest, Travis Bowman, is doing amazing things on his Wishnevsky.  Check out his lovely new tune featuring McKee/Dufour-ish chops:
Seems to me, the harp guitar community needs Steve back up and running asap.  Please click the link below and do what you can.